Korean is the official and national language of South Korea and North Korea, spoken by about 80 million people. It is also a recognized minority language in China and also spoken in parts of Sakhalin, Russia, and Central Asia. 
Given the global nature of the Korean language, there's a need for Translation to English and vise visor to enable effective communication across industries. At Etcetera Language Group Inc., we offer exemplary translation services in over 100 languages, including Korean to English Translation and vice versa.
Services we Offer for Korean Translations
Our services include the following:
Document translation
The slightest mistake made when translating a document can alter the overall intent meaning of the document. Etcetera Language Group, Inc. is a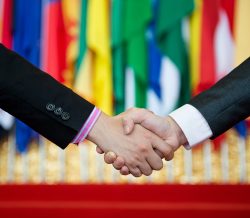 translation agency offering document translation services in different languages. We have over 20 years in the industry in providing accurate Document translation services. 
Our staff can provide outstanding translations services that meet our customer's needs. We always strive to maintain the overall integrity of the original document when translating documents into another language. 
Desktop-publishing
We will prepare a highly professional presentation that will help you reach your audience effectively with our state-of-the-art technology. Furthermore, we will combine our desktop publishing with multilingual desktop publishing to reach your Korean audience. Our advanced desktop publishing software is here not only to reduce production time but also the costs. Therefore, you can trust us for your professional presentation. 
Translation Proofreading and Editing
The error that occurs due to direct Translation can impede the intended meaning of the message. Our competent multilingual team has experience in providing proofreading and editing services. It is our responsibility to edit to eliminate disjointed sentences.
Thus, we ensure your business' professionalism is accurately maintained through our editing to perfection approach. 
Major Industries of Korea
The following are the major industries of Korea, all of which can benefit from our translation services:
Textiles
One of the Korean main industries is textile. Quality translation services in the textile industry are essential when outsourcing raw materials and selling products globally. Thus, translation services are necessary for the whole process. We offer a wide range of translations for the textile industry.
Car Manufacturing
Korean automotive industry has a massive capacity for automobile production. For this reason, it is ranked high in development with some well-known Korean brands such as Hyundai, Renault, Samsung, and Kia.
For that reason, there is a need to translate the Korean language as this may aid a professional working environment for all stakeholders.
Shipbuilding
Since the 1980s, Korea has been among the world's leaders in shipbuilding, and by 2008, Korea became the top shipbuilding, accounting for 50.6% of the Global market share worldwide. Like many other significant industries, the sector needs Etcetera Language Group Inc. for translation services for the sake of its worldwide audience. Therefore, we will strive to bring inaccurate translation services for the Shipbuilding industry in Korea.
Electronics Manufacturing
We understand that Electronics is one of South Korea's main industries. Companies such as Samsung, LG, and SK have led South Korea's growth in the Electronics sector.
For that reason, the industry needs translation services to reach its worldwide audience. You can trust Etcetera Language Group Inc. to bring in excellent translation services for the Electronics Manufacturing industry in Korea.