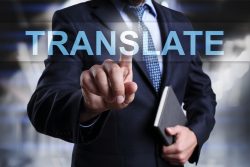 Using Ukrainian translation services is one way to give your company an edge over the competition. The translation service that you choose to trust with your documents needs the knowledge and skills necessary to translate accurately and in a timely way. Our staff of highly trained translators can help with this important part of your document processing.
Editors and translators, with watchful eyes, will ensure that the intent and tone of a document are retained throughout all translations. This can be especially important in business. You want an excellent representation of the original and we can help. Keep reading to learn more about our translation services.
How Do Translation Services Work?
Translation services employ trained language translators with years of experience. Their experience lies in converting Ukrainian documents to English and English documents to Ukrainian. These translation services can be applied in many different types of industries. Industries include automotive, advertising, marketing, engineering, computer science, education, technology, and more. You can speak with translation professionals to learn more about how translation services can be applied to your specific field.
Services Provided
Desktop Publishing- This service refers to the preparation of documents such as brochures, posters, or other items that could be used for marketing or advertising purposes. These are often used to share useful information about a company, a service, or an organization. Not only can translation services provide text translations, but they can also offer advice and consultation concerning graphics. This will ensure that you only use graphics and images that are culturally appropriate and will effectively serve your purpose.
Dual Language Documents/Materials- A translation service will also be able to provide you with documents and materials that include dual languages. For instance, documents and materials that include both English and Ukrainian can easily be created, proofread, and published.
Proofreading and Editing- Once documents have been properly transcribed, a quality translation service will put your materials through a thorough proofreading and editing process.
Here your documents and materials will be checked for grammatical errors, tone, and appropriateness. This is the step in which a quality translation service really shines. It is here that your documents will be carefully considered to ensure that your message and tone are being properly communicated. If you do not choose a quality service, so much can be lost through sloppy or lazy translation.
Contact Etcetera Language Group
If your company or organization needs Ukrainian to English translation services, please contact us at Etcetera Language Group. We will be happy to assist you.