An academic transcript tells schools and businesses who you are and what you have to offer. It allows them to look at your academic history to see what classes you have taken and all that you have accomplished. When you begin to study or work abroad, you'll need to make sure your transcript is translated.
A lot can get lost in translation. Course names may be different in one country versus another. Extracurricular activities may differ. You don't want to give a false impression of what you have accomplished as it can under (or over) represent what you have done.
To ensure that you're giving an accurate representation of yourself, there are various documents that may need to be translated. This includes not only your academic transcript but also the syllabi of different courses as well as dissertations that you may have written. In some instances, a school or business may also want to see diplomas, exam results, and letters of recommendation. All of these will need to be properly translated.
You cannot risk school admission, an internship, or a job opportunity by using your current academic transcript. The moment you decide to pursue an opportunity in France, Spain, Germany, Japan, or anywhere else, you'll need to provide your academic information in the necessary language. Multiple individuals will likely be reading your transcript. You cannot depend on their understanding of your native language to translate everything accurately. It has to be in their language so that no details are missed.
You may need an academic translation because of:
Applying to a foreign school

Participating in an internship

Studying abroad for a semester

Applying for a job opportunity
Depending on your current goals, you may need multiple translations, too. For example, you may be considering an internship in both France and Germany. This means you'll need to have all of the necessary documents translated to both French and German.
It's always important to know what's being required of you before you start the application process. In some instances, a "certified" translation will need to be provided. This means that, in addition to the translated documents, you'll need a signed statement to attest to the validity and completeness of the documents.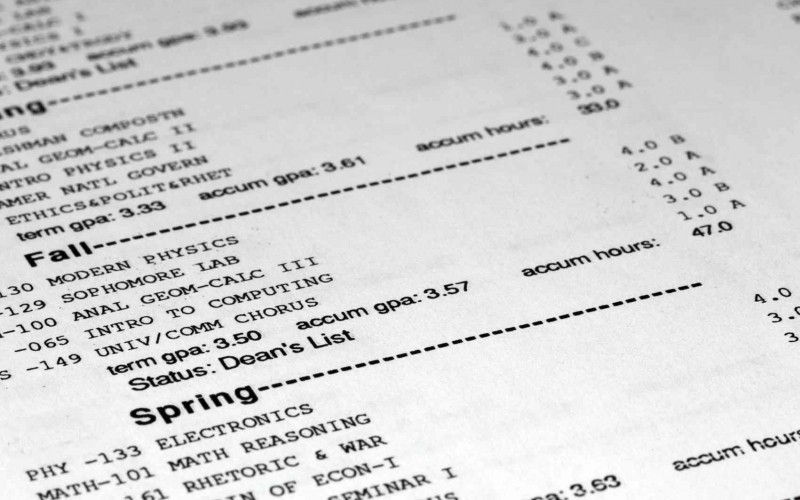 What You Need to be Aware of When having an Academic Transcript Translated
Academic transcripts have to be accurately translated. Unfortunately, not all services are the same. In fact, many use a digital translation without anyone looking over the end result. This means that you could end up with a complete mess – and not even know it.
You'll want to make sure that the translation does not editorialize. At no point should your translated documents "explain" the original ones. Instead, you want a word-for-word rendering of the document from the current language to the needed language.
Translators only have the ability to translate what's in front of them. If there is missing information, they cannot translate it. There are a few ways to ensure that you're getting the best possible translation of your documents:
Provide legible transcripts that aren't faded

Provide all necessary documentation, including syllabi of the courses

Include all pages of the transcripts and other academic documents
You'll want to provide syllabi and other reference materials to ensure that a translator is capable of making the most accurate documentation. Academic terminology and jargon do not always translate word-to-word. As such, having some context will make it easier to choose the right word in the language the document is being translated to.
Particularly when you need a certified translation, you'll need to make sure that the documents haven't been marked up or written on. If there are notes in the margin or the use of white-out, it will create suspect in the document.
Confirm all of the documents that will be needed. It will be much easier to have everything translated at once. Otherwise, you might end up spending more by going back over and over again.
Additionally, while you may have a bilingual friend who has offered to translate your documents, it may not be what the school or government agency is looking for. Impartiality is often demanded. As such, you'll want to use an independent, professional translation company to ensure that the translations can be certified and delivered in the desired format.
While you may want to get a cheap or free translation so that you can apply and move on, it's not always that easy. You need to focus on presenting yourself in the most professional manner possible. If you want to be accepted or hired, you need to showcase your academic history – and using a professional translation service is the easiest way to achieve this.
Don't hesitate to compare translation services. Ask questions so you know what it is that you're getting for the money. By working with professional translators as opposed to a digital translation, you'll get the impartiality and expertise needed to display your capabilities and accomplishments accurately.
Do You Need to Have Your Academic Transcripts Translated for Work or School?
Contact us at Etcetera Language Group for immediate help. You'll want to have an academic transcript translated and read to go so that you can provide it upon request. It can make the difference between getting to participate in a particular opportunity or being passed over.
We have professional translators to help you with your academic transcripts. Our expert services can deliver confidence that your transcript is properly translated so that you can show off your skills. We also work with translating into a variety of languages, ensuring that your needs can be met.
The moment you learn that you need an academic transcript translated, contact us to find out how we can help. We offer the thorough and impartial translations that you need to shine with an academic institution or an employer. Whether you simply need a transcript translated or a large number of academic documents, we're here to help you – and with a fast turnaround.
Categorised in: Blog, Language Services