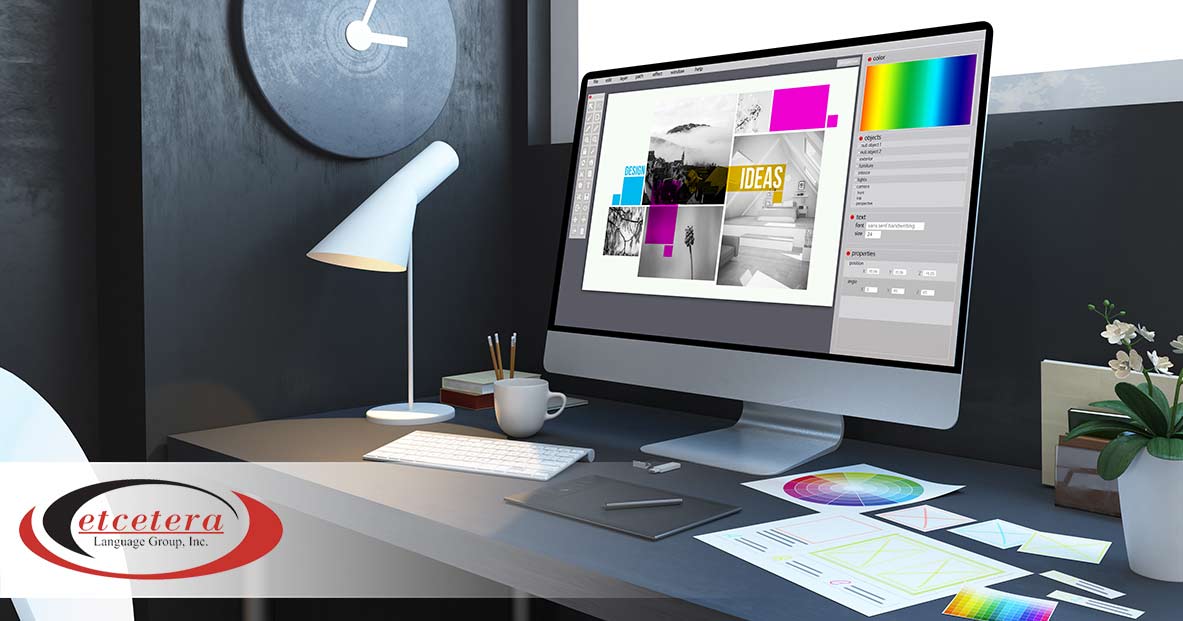 Desktop publishing (DTP) is the formation of documents using specialized software on a PC or desktop computer. This was the first type of system that was used specifically for print publication. Desktop publishing software has the ability to initiate certain designs and can generate layouts and produce impressively high-quality images and text that many can't tell isn't made using conventional typography and printing.
Desktop publishing also comes with many advantages that most businesses love. Not only does DTP dramatically reduce overall costs, but it significantly improves the quality and appearance of all the projects created using it. In addition, desktop publishing can make creating important documents fun, as users are able to take their levels of creativity to new levels.
Furthermore, businesses who use desktop publishing in order to produce their business materials enjoy the fact that they're able to customize the material that they create. This enables them to create material that is most useful for their business as well as the goals they're trying to achieve. Some industries rely on desktop publishing more than others, and here is an overview of six industries where desktop publishing is crucial.
Industry # 1 – Marketing
In the early days, desktop publishing was focused mostly on graphic design, and no other industries. However, since then, it has been discovered that marketing (among many others) was an industry that could also benefit from desktop publishing. How is desktop publishing utilized in marketing? Desktop publishing is used in various ways in marketing, as it is often used to print magazines, journals, newspapers and numerous other types of materials. Due to desktop publishing, marketing professionals are able to produce large amounts of useful materials at relatively affordable prices, which is a definite benefit.
Industry # 2 – Translation Services
Providing translation services entails a comprehensive process that includes many different services in order to be performed optimally. Desktop publishing is extremely crucial in this industry, as a huge percentage of written translated texts are inaccurate due to the types of formats that are used during the entire process. Fortunately, desktop publishing can make the translations more accurate, as it can be used to format the translations so that they appear as close as the original as possible. Furthermore, desktop publishing makes it easier to practice accuracy when it comes to punctuation, length of words, and much more. You will be rewarded with translations that are significantly more precise, which is your number one goal in the world of translation.
Industry # 3 – Business
Like other industries, desktop publishing is extremely valuable within the business industry. In fact, many small businesses wouldn't survive without the availability of desktop publishing. Desktop publishing is used by some businesses for many different reasons, including its ability to provide the same quality material that commercial printers provide, for half the price. In addition, businesses can easily customize the layout of their documents prior to printing, which is essential to success. By using desktop publishing, businesses can also create business cards, slide shows, and a great deal more in order to effectively market their products and services.
Industry # 4 – Education
Most people frequently underestimate the importance of desktop publishing within the education industry. With DTP, students and teachers alike will have the ability to generate an abundance of projects, presentations, homework assignments, and much more. Users will have access to appealing tools that will enable them to easily produce top-quality materials that can make learning and/or teaching fun. Not only can students use desktop publishing to create projects and other assigned materials for school, but while they're using the DTP system, they are learning a great deal about the in-depth process of desktop publishing. This could possibly even spark a future career interest in desktop publishing for some students.
Industry # 5 – Healthcare
While many people wouldn't believe that the healthcare industry could benefit from desktop publishing, this industry is actually one of its most popular users. Not all healthcare agencies are huge conglomerates that appear to have an unlimited amount of money. Many healthcare agencies are actually small non-profits that make every attempt to keep their expenses to a minimum. Since desktop publishing is so inexpensive in comparison to other types of publishing, this is especially beneficial for non-profit organizations and small healthcare companies. Healthcare agencies have an ongoing need for professionally printed materials that only desktop publishing can print for so little an investment. Healthcare agencies regularly print pamphlets, booklets, flyers, and other documents that are essential for their business.
Industry # 6 – Graphic Design
With desktop publishing, it isn't necessary for a user to be a professional graphic designer in order to produce high-quality documents. Desktop publishing is so high-tech that it can produce documents that appear as if they have been designed by professionals. This makes creating the top-notch material that graphic designers seek much easier to achieve. Users of desktop publishing have access to a variety of useful tools and programs that will create documents that can compete with those that have been designed using professional graphic design equipment.
So, if you're in an industry that could benefit from the absolute best in desktop publishing, then you're in luck. Etcetera Language Group, Inc. can provide you with premium desktop publishing services regardless of the type of business you have. Etcetera Language Group, Inc. can help you take your business to the next level by providing beautiful, professional-looking materials, whether you're looking for brochures, pamphlets, or some completely different. The high-quality materials that their state-of-the-art equipment produces will enable you to effectively advertise the products and/or services that your company has to offer. Give Etcetera Language Group, Inc. a call today so you can be on your way to success.
Categorised in: Desktop Publishing